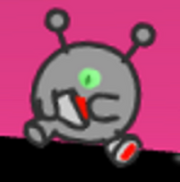 The Skater is a major character in the Run series. He likes to challenge himself, and will happily attempt to pass a level the hard way, just to improve his skills. He claims to have finished 49 "laps," presumably meaning he's finished each level 49 times.
"Enjoys challenging himself almost as much as he enjoys going fast."
-In game description
The Skater can be unlocked by beating level 10 or by buying him in the shop for 300 power cells.
The Skater is one of the fastest characters in the game, at 21m/s, second only to the Bunny. He has a lower-than-average jump height, but his high speed means he can still jump extremely far. The Skater suffers from low maneuverability, and struggles on levels where he has to move sideways.
After failing a single level several times in a row, the Skater becomes frustrated and pushes himself harder, until he quits or beats the level. When pushing himself like this, his top speed matches the Bunny's.
Costumes
Edit
The Skater has one unlockable costume, a winter costume.

The Skater's winter costume is unlocked by beating the Winter Games. Alternatively, it can be bought in the shop for 500 power cells. When the winter costume is equipped, the Skater wears a red bobble hat with a red pompom, and ice skates rather than roller skates. He is officially known as the Ice Skater when wearing his winter costume.
Everyone tries new things sometimes-In game description
Since he wanders so much, there was a brief time when the Skater had met everyone on the Planet.
The Skater likes to travel, but mostly he just hates staying still.
Tunnel running could be the next big sport, and the Skater intends to get a head start.
The Skater's philosophy: challenging yourself helps you improve. Once you improve, you can challenge yourself even more!
He enjoys challenging himself almost as much as he enjoys going fast.
The Skater is faster than anyone here. Well, maybe not that Rabbit, but animals don't count.
The Skater takes a few minutes each day to maintain his skates. His last pair ran out at a bad time, and he can't afford to lose this pair.
Ramps convert speed into jump height. Guess who benefits most?
Other Trivia
Edit
Ad blocker interference detected!
Wikia is a free-to-use site that makes money from advertising. We have a modified experience for viewers using ad blockers

Wikia is not accessible if you've made further modifications. Remove the custom ad blocker rule(s) and the page will load as expected.