What content can be found in this wiki?
This wiki is not so large, but not so small either. But, you may be curious about what is the basic content of this wiki. We are going to inform you in the following, so you will have at least some idea of what's going on here!

Here is a list of it, and you can press into the links below to maneuver in the wiki:

-Overviews of each game (Run 1, Run 2, Run 3)

-Features of each game (Infinite mode, Level Editor, Cutscene gallery, Galaxy Map, etc.)

-Character Overviews (Runner, Skater, Lizard etc.)

-Level guides (Level 1, Level 40, Level 65, Level M-4, etc.)

-Introduction of gameplay and features of games (Gameplay mechanic, Tiles, etc.)

-Achievement Pages (Galactic Vandalism, A Breath of Fresh Nothing, Figure Skater, etc.)

-A place for you to communicate with other players and to give something back to this wonderful game series.
We need your attention here in these pages!
Recent Blog Posts
Even though school for me is ending on the 22nd, my school laptop is going to be turned in today or tommorow. This will mean that I might be barely active, or might not be active at all, as my parents heavily restricts the use of my own computer. I …

Read more >
Featured Article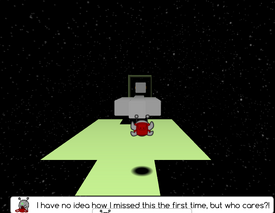 In the
Bridge Building
minigame, you need to beat it in order to reach The Way Onwards, which involves pushing floating boxes to their rendezvous point in Level B-13. The boxes must be pushed through tunnels that the player has already gone through, often backwards. Each part of The Way Onwards has a set character, who is the only character that can be used for that part. Most of the levels must be done with either the Student or the Runner. However, the Student is not unlocked after playing The Way Onwards, and must still be bought to be used in any other levels. This minigame consists of 6 parts, in which 3 boxes are optional. Hence, you just need to finish three parts of the minigame in order to unlock The Way Onwards.
Read more...
Gallery
How do you like the new main page?
If you see this, your JavaScript might be disabled or DiscordIntegrator plugin isn't working. If the latter, please contact a wiki administrator.
Let's have a vote about the Run series!
Which Run installment do you like most?
Statistics of the Wiki
Created: May 4, 2016
Content:

The only official Wiki about Run trilogy
789 articles
1,379 files uploaded
12,400 total pages
28,561 all-time edits

Activity: