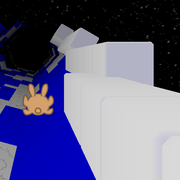 Boxes are obstacles which are placed in some levels in Run 2 and Run 3. They appear as large, white cubes. Boxes provide extra control over gravity in levels. The gravity in the tunnel will flip when a character jumps onto a perpendicular side of a box like it would when a character runs onto a wall. Sometimes you can stand in front of a box and stay there for a while for your speed to be slow.
Boxes play a prominent role in The Way Onwards. The Student discovers a box with orange rings floating next to it, which allow it to be pushed around. After she brings the first box to the Runner, multiple others are discovered by herself, the Runner, and the Skater. They keep all the boxes in B-13.
In the story, boxes can be opened by the characters. They contain supplies such as water bottles, freeze-dried food, and raw materials, which the characters use in their adventures. However, there is no way to open boxes in the gameplay, and can only be run on or pushed in The Way Onwards.
Ad blocker interference detected!
Wikia is a free-to-use site that makes money from advertising. We have a modified experience for viewers using ad blockers

Wikia is not accessible if you've made further modifications. Remove the custom ad blocker rule(s) and the page will load as expected.